Bumble Bags donated product to help raise funds for the Bailey Baio Foundation. They recently hosted a Celebrity Baby Yard Sale at the Sportsmen Lodge Hotel in Studio City, CA.
This very special event was produced by the Bailey Baio Angel Foundation®, which was launched by Renee and Scott Baio to promote more extensive newborn screening throughout our nation. Proceeds will go toward sustaining children and families affected by life-threatening metabolic disorders (including GA1 and other organic acidemia).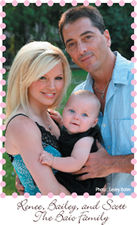 The Baio's daughter Bailey (whose initial GA1 diagnosis proved to be incorrect) inspired other parents to find a way to increase public awareness and create new legislation for mandated Enhanced Newborn screening (ENBS).
The event included apparel and gear from over 25 well known baby and apparel gear companies such as Stride Rite, Scandinavian Child and of course Bumble Bags.
The event supporters included Dennis Quaid, Jason Priestly, Samantha Harris and Tracy Gold to name a few.
"We want to do what we can to make the world a healthier, happier place," Renee Baio affirms, "and a big part of that is offering support to families who have to deal with this really difficult situation."
ENBS is not mandated in all states. To see a detailed map of what newborns are screened for state by state, click here.
"We received a phone call from Founder Scott Baio about the event and we knew that we had to help bring awareness to this very important cause" states Designer Jennie Lynn Johanson.
For more information about the Bailey Baio Angel Foundation® (which is a 501(c) (3) non-profit organization), click here.